River Tyne (Paperback)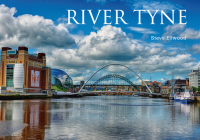 $24.95
Email or call for price.
Description
---
This book seeks to explore the River Tyne as it runs from source to sea, using old and contemporary photographs together with postcards to explore the communities, settlements and industries that have existed along its course. The river is formed from the tributaries of the North and South Tyne rivers, which rise in the Scottish Borders and Cumbria respectively. Running for a total of around 120 miles, the waters of the Tyne pass through the moorlands of the counties of Cumbria and Northumberland, through fine agricultural lands, passing many market towns before entering industrial Tyneside and eventually flowing into the North Sea, at the aptly named village of Tynemouth.The Tyne is the lifeblood of many of the communities that sit on its banks; Newcastle upon Tyne may never have existed if the invading Roman Army, under Emperor Hadrian, had not chosen to build the bridge at that particular point on the river in AD 122. The Tyne is a delight for anyone embarking on its exploration.
About the Author
---
Steve Ellwood is a well-known local writer and photographer. Since the 1980s, he has had an avid interest in photography, recording the changing architecture and local history of Newcastle, Tyneside and Northumberland. Steve is a qualified Newcastle City Guide and a member of the Society of Antiquaries of Newcastle.