Treasured Lands: A Photographic Odyssey Through America's National Parks, Second Expanded Edition (Hardcover)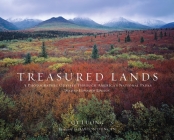 $65.00
Email or call for price.
Description
---
Give the gift of the National Parks with this beautiful coffee table book: the most complete photography book about all the 62 US National Parks, including White Sands National Park, and the only one with location notes for each photograph. Winner of 12 national and international awards.
QT Luong has updated and expanded his national parks book by adding 28 more pages, 29 new locations, and revising all the maps. Treasured Lands: A Photographic Odyssey Through America's National Parks pays tribute to the millions of acres of protected wilderness and historical heritage in all our country's 62 national parks, including the two designated since the award-winning first edition was published in 2016 and became an instant classic.
Luong, who is featured in Ken Burns and Dayton Duncan's documentary The National Parks: America's Best Idea, is the most prolific photographer working in the national parks and the only one to have made large-format photographs in each of them. In an odyssey that spanned more than a quarter century and 300 visits, Luong focused his lenses on iconic landscapes and rarely seen remote views, presenting his journey in this sumptuous array of more than 600 breathtaking images.
Accompanying the collection of scenic masterpieces is a guide that includes maps of each park, as well as extended captions that detail where and how the photographs were made. Designed to inspire visitors to connect with the parks and invite photographers to re-create these landscapes, the guide also provides anecdotal observations that give context to the pictures and convey the sheer scope of Luong's extraordinary odyssey.
Including a foreword by author and documentary filmmaker Dayton Duncan, Treasured Lands is a rich visual tour of the U.S. National Parks and an invaluable guide from a photographer who hiked-or paddled, dived, skied, snowshoed, and climbed-each park, shooting in all kinds of terrain, in all seasons, and at all times of day. QT Luong's timeless gallery of the nation's most revered landscapes beckons to nature lovers, armchair travelers, and photography enthusiasts alike, keeping America's natural wonders within reach.
About the Author
---
QT Luong is an award-winning photographer, author, and environmentalist known for being the first to photograph all 62 U.S. National Parks--in large format. He has been the subject of many magazine and newspaper articles, and was featured in the PBS series "The National Parks: America's Best Idea". Luong's photographs have appeared in hundreds of publications around the world, as well as solo gallery and museum exhibits across America and abroad. QT lives in San Jose, CA with his wife and two children. Dayton Duncan, author and documentary filmmaker, wrote and co-produced, with Ken Burns, The National Parks: America's Best Idea, for which he won two Emmy Awards and was named honorary park ranger by the director of the National Park Service. His articles have appeared in the New York Times, Boston Globe, American Heritage magazine, the Old Farmer's Almanac, and many other publications. He is the author of twelve books and has collaborated on Ken Burns's films for twenty years as a writer, producer, and consultant. Dayton lives in Walpole, NH with his family.