Dorothy Hinshaw Patent
Saturday, August 11th
10:00 am
Saturday Sidewalk Signing
Made for Each Other
Dog lovers everywhere will enjoy this insightful, adorable, and fact-filled photographic picture-book exploration of why dogs really are a man's best friend.

It's no secret that people and pups are best friends. But did you know that this special bond dates back tens of thousands of years?

During that time, we have only grown closer. Now cutting-edge science is helping us learn why we're so perfect together. Brain-imaging machines show how simply seeing you makes your dog's brain light up in its reward center. And blood samples reveal how just a touch or a gaze between two devoted friends releases helpful hormones that de-stress both pooch and person. In fact, we really speak each other's language--using pointing, barking, touch, and body movement.

Dogs make our lives better in so many ways. They keep us safe, rescue us in disasters, and guide us when we can't see. But a dog's most important job is to be its person's best friend. And as we learn more about the similarities of people and our four-legged friends, it's clear we are truly made for each other.
Along with signing her latest book, Dorothy will be happy to sign copies any of her previous work!
Event date:
Saturday, August 11, 2018 - 10:00am

$17.99
ISBN: 9781101931042
Availability: On Our Shelves Now
Published: Crown Books for Young Readers - January 23rd, 2018
---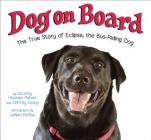 $16.99
ISBN: 9780399549885
Availability: On Our Shelves Now
Published: Crown Books for Young Readers - October 11th, 2016
---